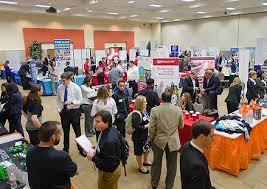 Job fairs are usually one-day events that attempt to connect several employers with prospective employees.  Job fairs attract all types of individuals from new grads to management heads. Skilled workers and even some that are just looking to get a general labour position.
A job fair event is conducted by inviting a large number of organizations and allowing them to have their own booths or stalls. These events are success if well attended. Sometimes a small group of 50 might attend and can range upto 800 for larger events.  Recruiters often interview clients on the spot and seek individuals that have a niche talent over the others.  Candidates are usually advised to present well at these events in order to get to the next round of interviews.
Sometimes organizations aggressively hire for new branches opening or hire in advance of seasonal work. 
PROs to the individual
1) Instant Employment - The recruiter is impressed with you. You're hired. You meet several employers, saving travel time, revenue spent and knowing if the job is a fit or not.
2) Industry Exposure - Learn more about the actual job responsibilities, type of work, distance the company is for long term commute. Understanding the company and its market.
3) Networking - Meet the recruiters and make an impression.  Connect with others that are at the fair perhaps they might have other ideas. A chance to know what the labour market trends are.
4) Person Above Paper - There is no substitute to building personal relationships than making them yourself with the recruiter.
5) Gaining Confidence - Gives you a chance to promote yourself in ways you never imagined. Speaking up for yourself knowing there is a sea of talent just behind you.
CONs to the individual
1)      Recruiter Fatigue - You find the recruiter is just going through the motion. Too much of competition has come their way. You are just another candidate.
2)      Recruiter Overdose -  The same recruiters show up all the time and very rarely new employers show up. If they do, they point you to their website to drop off the resume
3)      Competition – The vastness of talent could get intimidating. The approach with employers gets a bit exhaustive.  What questions do you ask that are different from the previous talent they've met.
4)      Non Response – One percent of recruiters respond with a letter of acknowledgement while the 99% don't. 
Image result for YOU'RE HIRED
Question: Is it worth attending a job fair?
1)      Yes, it is worth your time. You will never know what's out there and how you might be spotted if you don't attend the job fair.
2)      Yes, you may spend three or four hours attending a job fair but if the right employer comes along, you might be the one they are considering for the job.
3)      Yes, there is a sea of talent at these events but if you can showcase your skills, present with confidence, have the right attitude and stay persistent, be sure YOU WILL GET HIRED.